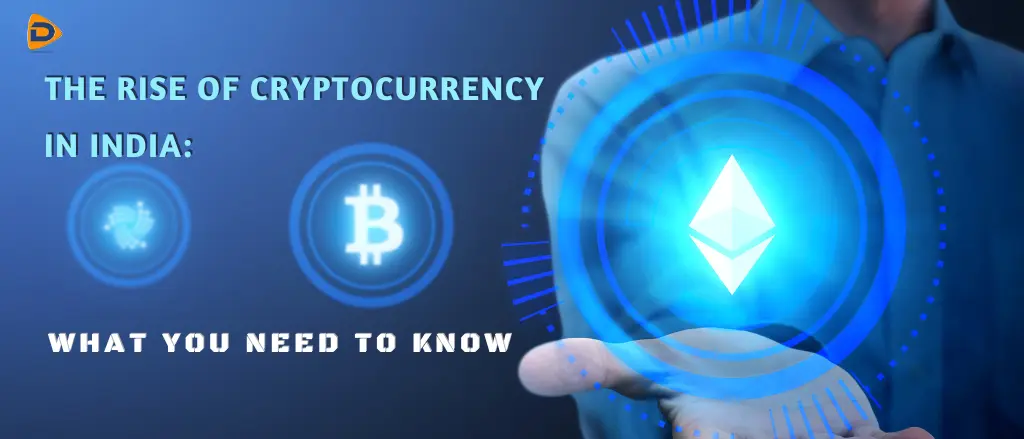 A beginner's guide to types of Cryptocurrency in India.
Since its inception, cryptocurrency has been a controversial and polarizing topic. Some proponents argue that it is the future of money and there are detractors who contend that it is nothing more than a fad.
Nevertheless, the rise in the popularity of cryptocurrency cannot be denied.
Almost a decade ago, an anonymous person or group of people under the name Satoshi Nakamoto released a white paper describing Bitcoin. Since then, cryptocurrency has become more and more popular as both an investment and a way to purchase goods and services.
Here, we will attempt to explain what cryptocurrency is and outline some of the different types of cryptocurrency available in India.
What is Cryptocurrency?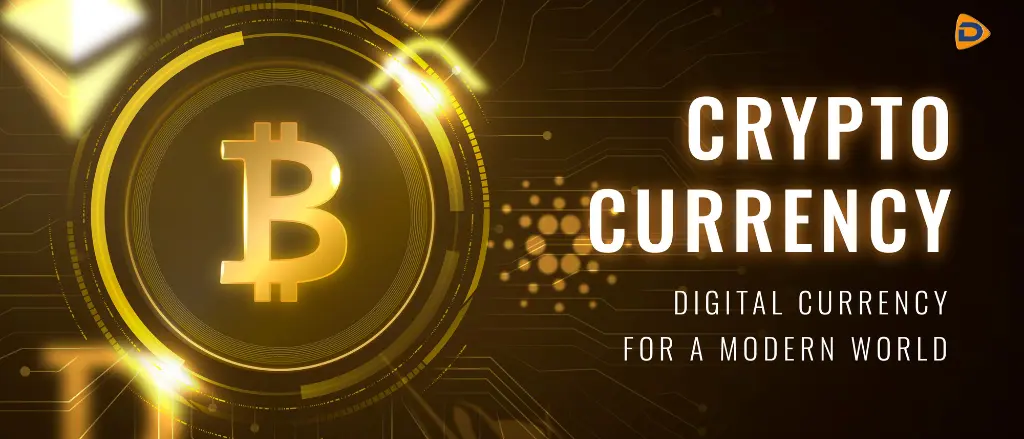 Cryptocurrency is a digital asset that uses cryptography to secure transactions, control the creation of new units and verify asset transfers. It is designed to operate as a medium of exchange. It is also known as virtual or digital currencies, a type of electronic money.
Cryptocurrency is decentralized and is not subject to governance or financial administration. They are usually traded on decentralized exchange platforms and can also be used to purchase goods and services. However, their volatile nature makes them a risky investment.
Some countries have even started to accept cryptocurrencies as legal tender. India is currently exploring the possibility of launching its own cryptocurrency.
Types of Cryptocurrency in India
India has been a very progressive country when it comes to cryptocurrency. They are one of the first countries to launch their own digital currency called the Digital Rupee from FY 2022-23 onwards in the Union Budget placed in the Parliament on February 01, 2022.
Bitcoin, Ethereum, Ripple, and Litecoin can all be traded on Indian exchanges against the INR. The Indian government is also looking into using blockchain technology to help with its currency problems.
In India, there are a few popular types of cryptocurrency, such as Bitcoin, Ethereum, Ripple, Tether, and others. Each has its own benefits and drawbacks, so it's important to research all options before investing in any one type.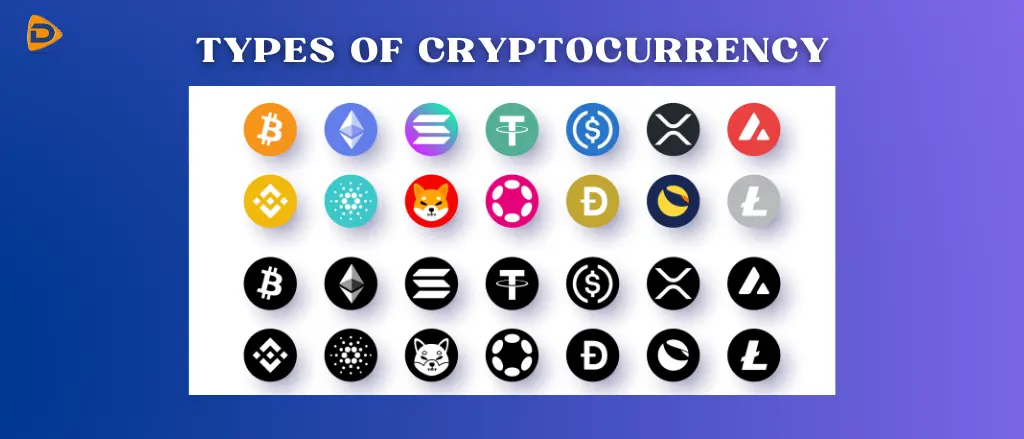 1. Bitcoin (BTC)
Price: ₹ 16,92,886
Market Cap: ₹ 32.6T
Bitcoin is the most popular type of cryptocurrency in India created in January 2009 and secured by cryptography. It's built on a technology called the Blockchain is known as the Bitcoin Protocol. These two concepts were almost synonymous for a long time.
Strangely, although Bitcoin is the most famous cryptocurrency and its creator is still unknown. An individual with the pseudonym Satoshi Nakamoto released a whitepaper that would become Bitcoin.
Bitcoin is fast and efficient to use, making it ideal for online transactions. It has a relatively low transaction fee compared to other cryptocurrencies, which makes it more affordable for consumers and businesses alike.
The Indian government has been supportive of the use of Bitcoin. They have even started working on their own cryptocurrency called Laxmicoin works on a blockchain technology called Rover Network.
2. Ethereum (ETH)
Price: ₹ 1,29,470
Market Cap: ₹ 15.9T
Ether was one of the first altcoins launched after Bitcoin is a key part of the Ethereum network. This coin is created in 2016 after the hard fork of Ethereum in 2015. This network describes Ether as the "Gas" that fuels the network.
Ethereum utilizes a different blockchain application called Ethereum Virtual Machine. It has an advantage over Bitcoin in running decentralized apps on the network without any downtime, fraud, censorship, or any third-party interface.
Ethereum has proposed to implement sharding as one of its solutions to scalability. one of the most achievements of its creators brought was the ability to build smart contracts into the blockchain.
3. Tether (USDT)
Price: ₹ 82.69
Market Cap: ₹ 5.7T
Tether is a stablecoin pursuing a steady evaluation. this is a cryptocurrency stablecoin pegged to the U.S. dollar and supported "100% by Tether's reserves", according to the website.
Their rapid development in popularity is the result of stablecoins' use as collateral by decentralized finance (DeFi) lending and staking protocols. It is owned by iFinex, a Hong Kong-registered company that also controls the crypto exchange BitFinex.
Tether was the third-largest cryptocurrency behind Bitcoin and Ethereum. It is the largest stablecoin with a market capitalization with the purpose to keep the valuation stable. So it can be utilized as a currency, instead of as an asset.
4. USD Coin(USDC)
Price: ₹ 82.72
Market Cap: ₹ 3.5T
USDC is launched by Coinbase, a fully transparent Ethereum token that is backed 1-for-1 by USD reserves. It can enable the decentralized use of the USD blockchain ecosystem in a permissionless and trustless way.
USDC is open source, allowing a new token to be issued, and to be redeemable by anyone. All USDC coins, whether issued by the company or created by a third party, will be backed by a dollar for each token issued.
Compared to Tether, USDC has stricter requirements for issuing and redeeming tokens. They are only issued via the Coinbase and Circle websites, or via the Coinbase and Circle apps.
5. Ripple (XRP)
Price: ₹ 38.2
Market Cap: ₹ 1.9T
Bitcoin continues to process transactions slower than banks and credit card companies, and this is why Ripple has been adopted by the mainstream. Ripple and Bitcoin both use decentralized ledger systems, but Ripple is fully open-source.
Ripple is an American company that was co-founded in 2012 by Chris Larsen and Jed McCaleb. Unlike other cryptocurrencies, Ripple does not use blockchain technology. Instead, it depends on servers operated by Ripple Labs for its blockchain-like functionality, and the currency is centrally controlled.
Anyone with a Ripple wallet can send Ripple to anyone else with a Ripple wallet, but unlike other cryptocurrencies, no one can send Ripple from their own wallet to a Bitcoin address or any other cryptocurrency wallet.
Ripple's products are based on blockchain technology, but they have been created to be faster and cheaper than other systems. It may well revolutionize the way that international payments are made in the future.
6. Binance Coin (BNB)
Price: ₹ 26,626
Market Cap: ₹ 4.3T
In 2016, a team of crypto enthusiasts led by Changpeng Zhao (CZ) founded Binance. The project kickstarted a crypto exchange platform for crypto trade for non-crypto experts.
Binance coin (BNB) was launched in 2017 to pay for the trading fees on the Binance exchange. Binance coin was initially launched as an ERC20 token based on the Ethereum blockchain. By 2018, Binance had developed its own blockchain called Binance chain.
BNB operates on its own blockchain which allows it to conduct transactions in an open ledger system. Binance offers a range of coin/token pairs for trading. But unlike traditional exchanges, Binance has its own crypto token, Binance coin.
With a total number of 200 million BNB coins issued, the altcoin is considered one of the first tokens to be issued as an ERC20 token. As of current, BNB is the 25th highest-valued cryptocurrency.
7. Solana (SOL)
Price: ₹ 2,599.76
Market Cap: ₹ 936.4B
Solana is an open-source project which uses an energy-efficient technology that has two layers. Micro-payment channels are used in the first layer to achieve transaction scalability, while parallelism is used in the second layer to create a high-throughput platform.
The project claims that it's highly efficient in providing consensus for a high number of transactions. Like Bitcoin, Solana supports smart contracts.
Solana was created as an autonomous and decentralized blockchain platform and has no mining or staking of Solana tokens. In addition, Solana transactions are very fast and do not require any fees for the first million transactions.
The Solana team has made some key announcements regarding its platform. The team is currently working towards an upgrade of the platform to version 3.0.
Summary
Cryptocurrency is slowly but surely gaining popularity in India. Although it is not yet a mainstream form of payment, there are certain advantages that make it appealing to Indian consumers and businesses.
For one, Transactions made using cryptocurrency are fast and secure. Additionally, Cryptocurrency offers greater privacy than traditional forms of payment such as credit cards or bank transfers.
India is one of the latest nations to start exploring regulation around digital currencies, and it's a move that could have a big impact on the future of cryptocurrency in India.
Cryptocurrency is taking India by storm for three primary reasons: it has the potential to provide financial inclusion, its use in e-commerce, and its government support.
Trading in cryptocurrencies is legal, under the provision of law in India. So far cryptocurrency exchanges are very much allowed to have their operations in India.
Device Doctor India is the best website development company in Jaipur. We work on the latest, unique and updated technology. We have a team of experts who are skilled in their tasks and have experience with hundreds of clients.